Power to Choose | Compare the Best Texas Electricity Rates
Currently, the cheapest rates around Houston and Dallas is around 13.8 ¢/kWh.
Based on recent order data, the leading Dallas electric suppliers are Energy Texas, Gexa Energy, and TXU Energy, while the best Houston electricity providers are 4Change Energy, Energy Texas, and Frontier Utilities.
About half of all Texas electricity consumers are choosing plans with a contract length of 12 months, with 18 month contracts being the second most popular.
The average electric bill in Houston and Dallas ranges from $160 to $310, depending on average electricity usage around 1200 kWh.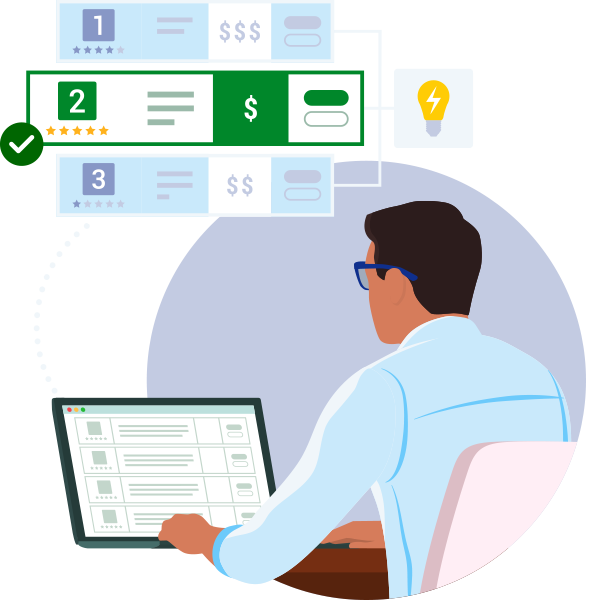 Power to Choose - Electricity Market Update
This fall, we recommend that Texas shopping for electricity in the Houston, Dallas, and Corpus Christi areas select a 12 month fixed-rate electricity plan. Generally, natural gas prices are trending lower over time, and that means that electricity rates will likely follow a slow downward trend over the next 12-18 months.
Most customers are finding competitive rates and plans from the following providers:
We do not currently recommend so-called 'Bil Credit' plans. These plans appear to offer a low rate, but your usage pattern must fall into the applicable range to get the bill credit. This means if you use more or less than the expected range, your rate per kilowatt could be significantly higher.
Use your "Power To Choose" and enter your zip code in the box and click 'Get Started':
Enter your zip code to see our expert plan recommendations
Get More Power To Choose on Texas Electricity Ratings
HOUSTON RATES
These are just a few of the rates available for Houston residents. We have dozens of electricity plans available.
Company
Term
Rate
Frontier Utilities
12/months
12.4¢/kWh
Gexa Energy
12/months
12.4¢/kWh
4Change Energy
24/months
12.5¢/kWh
Constellation
12/months
12.9¢/kWh
Discount Power
12/months
12.9¢/kWh
APG&E
6/months
13.8¢/kWh
Reliant
24/months
13.9¢/kWh
Cirro Energy
24/months
13.9¢/kWh
Amigo Energy
24/months
14.5¢/kWh
Tara Energy
24/months
14.5¢/kWh
Rates as of Nov 29, 2023 at 08:36 PM
DALLAS RATES
We have many more Dallas electricity plans available if you want more choices.
Company
Term
Rate
Frontier Utilities
12/months
12.3¢/kWh
Gexa Energy
12/months
12.4¢/kWh
4Change Energy
24/months
12.5¢/kWh
Constellation
12/months
12.9¢/kWh
Discount Power
12/months
12.9¢/kWh
Cirro Energy
24/months
12.9¢/kWh
APG&E
6/months
13.3¢/kWh
Reliant
24/months
13.5¢/kWh
Veteran Energy
36/months
13.5¢/kWh
TriEagle Energy
24/months
13.9¢/kWh
Rates as of Nov 29, 2023 at 08:36 PM
A Real Alternative to Power To Choose
Texas Electricity Ratings was founded to be a true guide for consumers, a worthy alternative to powertochoose.org
When Texas deregulated the Retail Electricity market in 1999, Texans were provided with Electric Choice and the PUC established the Power To Choose as an educational website to help consumers make better electricity choices.
Unfortunately, over time The Power to Choose has been abused by providers who manipulate their prices to show specific prices at specific usage levels (500, 1000 and 2000 kWh.)
A major problem for Power to Choose users is that any licensed Texas electricity provider can promote their plans on the site, regardless of their reputation, customer service complaints, PUC violations or BBB rating. There is NO CONTROL over which companies can list their products! You are at the mercy of companies who have an incentive to lure you in with bait-and-switch rates.
Why is Texas Electricity Ratings better than PowerToChoose?
We strive to bring transparency to the electricity marketplace. We want you to pick a plan that works for you! To do this, we offer several exclusive tools to help you!
View Rates in Your Zip Code
Power To Choose FAQ
What is the Power to Choose?

Texans Have the Power To Choose their own electricity provider, giving you direct access to hundreds of offers and choices, and savings

Who can I trust to have the best electricity rates

TexasElectricityRatings has over 10,000 five star reviews on Shopper Approved and Over 1400 Google Reviews, and has been featured on Channel 2 News in Houston, The Dallas Morning News, and the Houston Chronicle

Who has the cheapest electricity rates in Texas?

The cheapest 12 month electricity rate is 12.300. Watch out for month to month and variable rates. For example a super low 5 or 6 cent rate may only be effective for a short term, or for a narrow band of usage, example 1000 to 1200 KwH then the rate JUMPS to 12 cents at 1201 KwH.

How can I get a better deal on electricity?

The Best way to get a better electricity rate is to understand your usage, credit and then compare rates at TexasElectricityRatings.com
The Power To Choose Scorecard
| | | |
| --- | --- | --- |
| Power to Choose Ranking | Provider/ Brand | Parent |
| ●●●●● | | NRG |
| ●●●●○ | | Vistra |
| ●●●●○ | | NRG |
| ●●●●○ | | Just Energy |
| ●●●●○ | | Exelon |
| ●●●●○ | | NRG |
| ●●●○○ | | N/A |
| ●●●○○ | | NRG |
| ●●●○○ | | N/A |
| ●●●○○ | | NRG |
The Scorecard Legend

●●●●● Lowest Complaint Rate

●●●●○ Lower than Average Rate of Complaints

●●●○○ Average Complaint Rate

●●○○○ Higher than Average Rate of Complaints

●○○○○ Highest Complaint Rate
Who are the top ranked providers available on Texas Electricity Ratings. (as of May 2021)
The Power to Choose provides an easy way to shop for Texas electricity rates. Unfortunately it is often confusing and misleading. It's often referred to as "The Power to Confuse" as many Texas electricity companies use it as their primary source of electricity orders.
The one thing that the Texas power to choose provides is complaint data from the Texas PUC. This complaint data provides great insight into companies ability to accurately bill, and provide customer service in a timely manner.
Most complaints that the Texas PUC receives are billing related, which is different from the data that Texas Electricity Ratings uses. TER rates rank and reviews providers based on real-time data, prices, features, reviews from our users, 3rd party reviews, 3rd party data sources, surveys and real time plan analysis.
The Scorecard Methodology:
REPs are scored into five groupings of approximately equal size based on a 6-month rolling average of complaint rates per 1,000 customer relative to other companies.
Signficant changes in the complaint score may occur from month-to-month for smaller REPs based on only a few complaints. This complaint scorecard should be viewed as only one measure of the customer service provided by REPs.
Please note the complaint score is based on a rolling 6-month average of the total number of informal complaints investigated, irrespective of whether or not the company was determined to be at fault or adequately resolved the customer's complaint. (Note - this means - the Count of Complaints - EVEN when the Provider is not liable)
In many cases, the PUC's informal complaint process adequately addresses the customer complaints with quick resolution by the REP. You may wish to also review other resources regarding a REP's customer service such as your local Better Business Bureau.
Energy Deregulation in Texas
Energy deregulation, also known as energy choice or customer choice, is a system that allows consumers in Texas to choose their own retail electricity provider (REP) rather than being forced to purchase electricity from a single utility company.
In Texas, energy deregulation was implemented in 2002 with the passing of Senate Bill 7. This bill created a competitive market for electricity, allowing consumers to shop around for the best energy plan that suits their needs. The idea behind energy deregulation is to increase competition and lower prices for consumers by allowing retail electricity providers to compete with each other based on price, plan features, and customer service.
Under the energy deregulation system in Texas, there are three main components: the electricity generator, the transmission and distribution utility (TDU), and the retail electricity provider (REP). The electricity generator generates the electricity, the TDU delivers the electricity to the consumer's home or business, and the REP sells the electricity to the consumer and manages their account.
Consumers in Texas have the power to choose their own REP, and there are many different plans and options available from various providers. Consumers can choose from fixed-rate plans, variable-rate plans, renewable energy plans, and more.
Overall, energy deregulation in Texas gives consumers more control over their electricity bills and allows them to find the best energy plan for their needs.